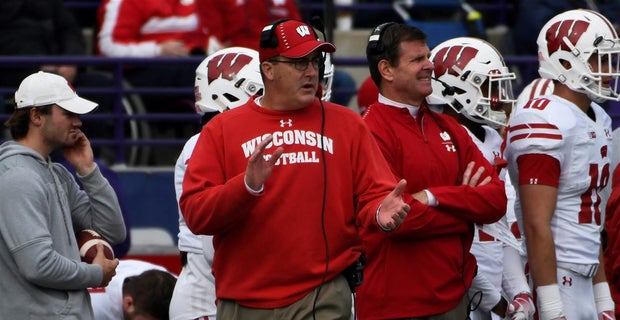 MADISON, Wis. — It's not all about Miami.
Yet.
In the weeks following the conclusion of a regular season that fell short of expectations, Wisconsin (7-5, 5-2) head coach Paul Chryst said the Badgers needed to kumbaya as a team before they started diving too deeply into film of their Pinstripe Bowl opponent.
"It's been good getting this work with the guys, I think for a number of reasons," Chryst said after practice on Friday. "One, just getting back on the field, and two, you get enough practices that a lot of the young guys get work.
"We got a couple more of these, and guys are in finals right now, and then Wednesday we'll start truly in-depth prep for Miami."
That's not to say Chryst is completely in the dark on the 305. This year's bowl game has the extra twist of being a repeat of last–Wisconsin finished the 2017 season with a 34-24 Orange Bowl victory over the Hurricanes.
Both teams have certainly changed–for better and for worse–since that showdown, but in the early stages of preparation this time around, Chryst, offensive coordinator Joe Rudolph, and defensive coordinator Jim Leonhard have been drilling their guys based off of what they already know Miami to be: one of the country's top-ranked defensive teams.
The three coaches gave us an inside look at what kinds of conversations they're having with each other and their respective rooms, what they're preaching on the field, and overall, how these last few weeks of preparation have been.
The Hurricanes defense is a bear:
"They're good," Rudolph said of Miami's second-ranked total defense.
"They've got great talent. They're extremely confident in their back end, which gives them a lot of flexibility with their front seven."
That back end he's talking about, made up of senior leaders Michael Jackson, Jaquan Johnson, and Jhavonte Dean, has helped the Hurricanes pull down 15 interceptions, which is good for No. 14 in the country.
Then there's the defensive line.
"That group can flat out get up the field up front," Rudolph continued. "Their linebackers are experienced, they're quick to diagnose plays, they're quick to get there, and then they got about 30 different ways to mess you up inside, so it'll be quite a challenge."
Rudolph said once he takes a more in-depth look at the Hurricane's scheme, he'll do what he can simplify it for his guys. But at its core, Miami's defense is designed to cover all its bases and to confuse.
And it all comes down to reading the situation. Rudolph said the Hurricanes can stretch teams when they're more likely to pass, then turn right around and cause problems up front when a team goes to the ground.
"It's well thought through. It's well though through by them," he said.
"Last year's game will be a good one for us, obviously," Rudolph said. "But then they've done some things differently against other teams this year, so we're gonna have to do a good job of putting a plan together."
Don't overthink the offense:
Chryst acknowledge that there's definitely a temptation to pull out some offensive wild cards for a bowl game–on the last game of the season, why not practice what he preaches all season and literally leave it all on the field, right?
Wrong.
"You have a chance to do some of that [new stuff]," Chryst said. "But I think I've made that mistake before where you try to reinvent everything.
"I think you have to balance it out. There are a number of things you have been practicing, but really haven't gotten to. I think you're better off going with those than trying to reinvent the wheel."
Rudolph would tend to agree. To take full advantage of this extended period they have to prepare for one game, he wants to take time to clean up mental mistakes that have plagued the Badgers all season and get everyone caught up and on the same page.

"Sometimes just getting out here and playing ball and following things and being able to get some reps of those things in makes you get more comfortable with it," Rudolph said.
Springboard into the offseason:
This is the time of year when the younger and less experienced Badgers get to take a turn on the front lines–in practice, anyway.
Guys who spend the whole season playing on the scout team on both sides of the ball get the opportunity to run with the 1's and 2's. It gives them a taste of what's to come next season when they step into bigger roles, and helps them and their coaches set expectations.
"This is a fun time of year for coaches," Leonhard said. "You get some of those guys out of scout situations and you get them back competing and you see throughout the course of a season, what did they learn, where are they at, and are they willing to just let it go and play ball.
Leonhard has been particularly impressed with the sparks he's seen out of sophomore linebacker Noah Burks, freshman backer Jack Sanborn, and junior safety Collin Wilder.
Getting those guys some meaningful practice minutes is equal parts necessary (so Leonhard knows what he'll be working with next year) and rewarding.
"They get frustrated, as they should," Leonhard said. "Some guys that want to play and maybe they're not quite ready. This is kind of a jumpstart into the offseason, a jumpstart into spring ball where they can go compete and kinda show where they're at again."