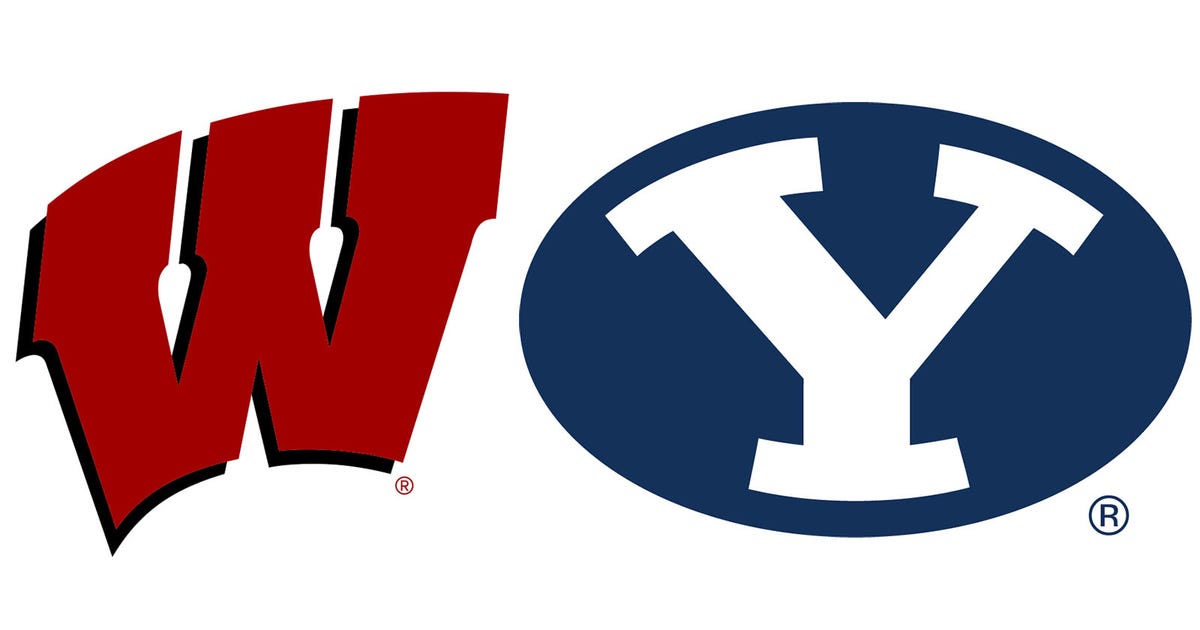 We're onto Wisconsin's third game of the season and in this one the Badgers are only a three-touchdown favorite — in other words, Saturday's matchup against BYU figures to be the most competitive non-conference game.
But this also means that yet again, our internet prognosticators are all-in on another Wisconsin victory. As usual, though, the expected final score has a wide variation falling on both sides of the Vegas spread.
Next week, though, we have a feeling things will get more interesting.
Here are this week's picks from around the web and Twitter:
The Associated Press' Ralph D. Russo: Wisconsin 38, BYU 14.
Pete Fiutak of Collegefootballnews.com: Wisconsin 37, BYU 16. "Wisconsin will need a quarter to get going, the defense will look a little rocky, and then it'll start teeing off on the quarterback, the Taylors will come up with several big moments, and the Badgers will pull away in the second half. BYU has found a way to stay close with two superior teams so far, but the Badgers are a whole other issue."
Bill Bender of The Sporting News: Wisconsin 38, BYU 14.
Kevin McGuire of Athlon Sports: Wisconsin 36, BYU 17. "There is little reason to believe that Wisconsin won't enter its Big Ten schedule with a clean 3-0 record. Jonathan Taylor, behind a strong offensive line, should be difficult to stop, even for a BYU team that is improved from last season's disaster. Getting pressure on Cougars quarterback Tanner Mangum will be a focus for the Badgers defense, as he is likely to turn the football over at some point. Causing turnovers and letting Taylor lead the ground attack are the keys to Wisconsin's formula for success, and that formula should once again be on display this weekend in Madison."
The Oklahoman's Berry Tramel: Wisconsin 33, BYU 14.
Jesse Temple of The Athletic ($): Wisconsin 38, BYU 17. "Wisconsin destroyed BYU last season behind quarterback Alex Hornibrook's near-perfect day. He completed 18 of 19 passes for 256 yards and four touchdowns with no interceptions. I don't think life will be that easy for Wisconsin on Saturday, but I also don't see BYU seriously threatening the Badgers. Wisconsin needs to produce a solid game so the team can feel good about itself because a road game next week at night against Iowa looms."
Andy Greder of the Pioneer Press: Wisconsin 40, BYU 24.
Sam McKewon of the Omaha World-Leader: Wisconsin 31, BYU 14. "Wisconsin has usually warmed up on offense and defense by this point in the season, but the Cougars are competitive physically. The Badgers can't get caught looking ahead to what may be the Big Ten West title game at Iowa on Sept. 22."
David Kenyon of Bleacher Report: Wisconsin 41, BYU 16. "After holding a dynamic dual-threat in Khalil Tate to 14 rushing yards, BYU gave up 184 at home to Cal. The Cougars hope the run defense from the 2018 opener travels to Madison, but Jonathan Taylor—the nation's leading rusher—will be too much to handle."
Athon Sports' Mitch Light: Wisconsin 31, BYU 14.
Chad Leistikow of the Des Moines Register: Wisconsin 28, BYU 13. "Brigham Young is already battle-tested — having split against a pair of Pac-12 opponents (beat Arizona; lost to California). There's also a revenge factor after the Cougars were routed by 34 by the Badgers last year in Provo. The Badgers should probably give running back Jonathan Taylor a lighter afternoon after he lugged the ball 33 times (for some reason) last week against New Mexico … and with Iowa on deck."
Eric Eager and Ben Brown of Pro Football Focus: Wisconsin 35, BYU 10.
Bill Connelly of SB Nation: His S&P+ projection has it Wisconsin 44, BYU 11.
The Daily Herald of Provo, Utah: Wisconsin 36, BYU 13.
All 12 staff members at KSL.com pick Wisconsin to win. Every prediction has the Badgers winning by 14+ points. The site lists fan base optimism for a Cougars win at 5.3 percent.
All seven of CBSSports.com analysts think Wisconsin will win and four of the seven believe the Badgers will cover a 23.5-point spread.
All six analysts at USAToday.com are going with Wisconsin.
Yup, all three Athlon Sports analysts are picking Wisconsin to win.
All nine analysts for the Dallas Morning News have the Badgers winning and all but three think Wisconsin will cover a 21.5-point spread.
The five writers at the Detroit News all think Wisconsin will win and cover a 23.5-point spread.
All three analysts at FootballScoop.com pick Wisconsin to win.
All four at Cougar Sports Insider pick Wisconsin to win with varying scores of 42-10, 41-13, 38-20 and 35-21.