MADISON, Wis. — What we learned after Wisconsin's 41-24 win over Nebraska on Saturday…
Nebraska still can't stop the Wisconsin run game
Since Nebraska joined the Big Ten in 2011, they've watched Wisconsin run for a grand total of 2,703 yards in eight matchups. That's an average of 337.9 yards per game.
The Badgers put up 370 yards on the ground Saturday, including 221 and three touchdowns from sophomore running back Jonathan Taylor. For Taylor, he hit the 200-yard mark for the fifth time in his young career and notched his third three-touchdown game.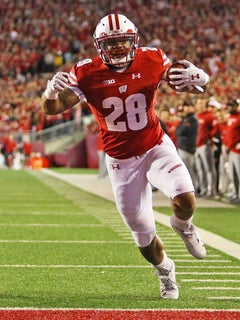 Taylor also posted a career-high 88-yard run in the fourth quarter, the fourth-longest spurt in school history.
Senior Taiwan Deal and sophomore Garrett Groshek also got into the mix. The two reserve running backs combined for 147 yards, including Deal's 20-yard touchdown run in the third quarter.
The three backs averaged 8.6 yards per carry as the Cornhuskers are still lost as to how to slow this UW rushing attack down.
"That's what they do," Nebraska head coach Scott Frost said. "That's what they're built to do. This whole game from the start was the type of game they wanted to be in."
Wisconsin's offense finally broke out
It happened. Wisconsin's offense finally looked like the unit we all expected coming into the 2018 season.
The Badgers struggled to punch the ball into the end zone in the first quarter, but moved the ball consistently throughout the entire 60 minutes en route to a season-high 533 yards of total offense. In fact, UW's 533 yards were the most in a Big Ten game since they put up 627 against Nebraska in 2014 — the Melvin Gordon 408 game.
Wisconsin chewed the clock — possessing the ball for over 35 minutes. The Badgers averaged 12.5 yards per completion and 7.7 yards per rush. UW was also 6-of-12 on third down and 1-of-1 on fourth.
Wisconsin showed they could score in different styles.
The Badgers opened the game with a 15-play, 63-yard drive in 7:52. They also had two scoring drives that lasted under 1:35.
"I think we did need it," senior left guard Michael Deiter said of the offensive outburst. "I think that's how it needs to be every week and I still think there's a lot we can clean up.
"It's encouraging to have over 500 yards and to say we can be a lot better."
The Badgers have more injury concerns on defense
Redshirt freshman Faion Hicks is already battling a thumb injury. Sophomore Caesar Williams missed Saturday's win with a leg injury. Then redshirt freshman Deron Harrell went to the locker room in the second quarter with an upper body injury.
All of a sudden, Wisconsin was down to Hicks, sophomore Madison Cone, and true freshman Rachad Wildgoose Jr. as their top three cornerbacks.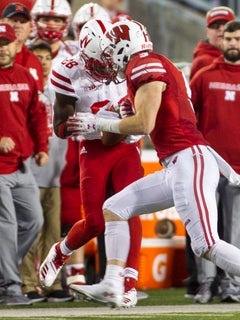 That's not all.
In the final stages of the game, sophomore defensive end Isaiahh Loudermilk left with what looked like a leg injury. He was seen in crutches after the game.
Senior safety D'Cota Dixon was also banged up and left late in the fourth quarter.
Heading into Saturday's showdown against Michigan, without starting free safety Scott Nelson for the first half, as he was ejected for targeting against Nebraska, the injuries are piling up at the wrong time for a defense that's still struggling at this point in the season.
"It's difficult, but it's football," said senior linebacker T.J. Edwards. "I know coach Leonhard (Jim Leonhard) and the rest of the defensive staff wouldn't put those guys out there if they didn't have faith in them.
"All we can really do is try and communicate the best that we can with them."
The secondary is still a work in progress
You knew Nebraska would score points. They have an uptempo offense with a dangerous dual-threat quarterback and two terrific weapons at wide receiver.
But it's mental/correctable mistakes that add up throughout 60 minutes that turn a good performance into a poor one for this secondary.
The Huskers opened up the second half with a 75-yard touchdown pass from Adrian Martinez to JD Spielman. On the play, UW didn't bring any extra rushers and kept three after Martinez. The last thing that should have happened was a bomb with no help available on the back end.
Instead, redshirt freshman Scott Nelson fell down and Spielman had nothing but green grass in front of him.
Nebraska was then able to close the gap to 34-17 late in the third quarter. This time, the Badgers had Martinez right where they wanted him, scrambling and forcing an off-balance throw. Yet no UW defensive back was able to make any sort of play on the ball.
UW had chances to atone for those mistakes as well.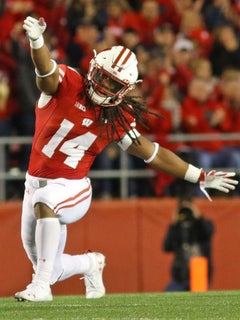 Hicks dropped an interception to open up the fourth quarter. Next play, Nebraska picks up a first down through the air.
Two plays later, senior safety D'Cota Dixon dropped another gift from Martinez. Late in the fourth quarter, sophomore Seth Currens also dropped an easy interception, but it didn't lead to points.
The Badgers had a good game plan against Martinez and made the Huskers very one-dimensional. Yet Martinez threw for 384 yards and two touchdowns, many of which came on obvious breakdowns by the secondary.
"Every game is a new experience," said Hicks. "We're having fun, at the same time we're learning. We're trying to learn as fast as we can."
The 384 yards for Martinez were a career high and Nebraska freshman record. He also led the Huskers in rushing with 57 yards on the drive.
"The kid is good, the kid is really fast," said senior nose guard Olive Sagapolu. "They definitely know how to use him. Great athlete, fast guy."
The Badgers are improving their pass rush
Wisconsin averaged 3.0 sacks per game last season. Coming into Saturday, the Badgers had just three sacks the entire season.
UW had to be careful of how to blitz a guy like Martinez, but got to him twice, both sacks by Edwards, but there were a number of times that the defense made the true freshman quarterback uncomfortable and forced some errant throws or held him to minimal rushing gains.
The front three won't generate much pressure on their own, but when Wisconsin brought at least one extra defender, they seemed to have success. The Badgers had seven quarterback hurries.
Having Andrew Van Ginkel in the lineup more was a big help as well. The senior linebacker forced Martinez to scramble on a number of occasions and drew some holding penalties as well.
"I think we did a good job," junior outside linebacker Zack Baun said. "He (Martinez) got outside the pocket at times, which we expected, because he's a very mobile quarterback. We just gotta do a better job of getting him on the ground."