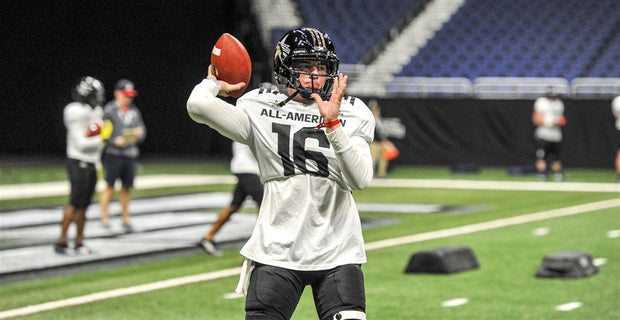 SAN ANTONIO, Texas – The courtship is over, now it's time to go to work at Wisconsin.
Top247 quarterback Graham Mertz put pen to paper in favor of the Badgers during the Early Signing Period and the All-American is ready to get to Madison and make a difference in year one. Throughout the recruiting process, head coach Paul Chryst, offensive coordinator Joe Rudolph and quarterbacks coach Jon Budmayr have said the opportunity is there for Mertz to indeed make an instant impact.
"They're all just ready for me to get up there and start competing," Mertz said following practice at the All-American Bowl on Wednesday in preparation for Saturday's game to be played inside the Alamo Dome broadcasted nationally on NBC. Kickoff is set for 1 p.m. (EST). "Show me what you got. That's there thing right now."
The 6-foot-3, 212-pound Mertz has showed well in San Antonio, a strong-armed passer that has been accurate all over the field. He has all the traits to be extremely successful in Madison.
"I want to get in there and compete my hardest and try to bring that level in that room up and they say the best player plays and if I'm not the best player I'm not going to play."
Mertz joins a quarterback room that includes Alex Hornibrook and Jack Coan who both started this past fall along with Chase Wolf. His expectation is to ultimately be QB1.
"I know the work that I put in," Mertz said. "I'm confident in myself. I'm just excited to get in that room. It will be good competition."
As a senior, Mertz threw for 3,886 yards and a state-record 51 touchdowns for Overland Park (Kan.) Blue Valley en route to earning state Gatorade Player of the Year Honors. As a junior he threw for 3,684 yards and 45 touchdowns. Blue Valley was state runner-up this past fall and state champs the year prior. Mertz finished with scholarship offers from the likes of Alabama, Clemson, Georgia, Iowa, LSU, Miami, Michigan, Notre Dame, Ohio State, Oregon, Tennessee and Texas A&M, but when he committed to the Badgers back in October of 2017 he did so only over an offer from Minnesota. Some of those other programs at different times grabbed Mertz's attention, he even visited a few, but never enough to change his mind on his early decision.
"It was confusing at times," said Mertz. "I never really got to the point where I was decommitted."
No school could ever pass the Badgers.
"I just felt it was the all-around perfect fit," Mertz said. "I got a ton of family up in Green Bay. My mom's side of the family is from there. It's like my second home. I've been going up there my whole life. Coach Chryst, Coach Budmayr, it's a great family atmosphere an I loved the vibe up there. I love the culture and I'm ready to do big things up there."