GRAND FORKS, N.D. — It has been eight years since the University of Wisconsin men's hockey team faced rivals North Dakota and Minnesota on consecutive regular-season weekends.
The Badgers have never gone on the road for back-to-back series against teams that appeared in the Frozen Four a season ago.
Combine those two sentences and you have the next four weeks for UW, a stretch that stands out as challenging — and potentially season-defining — even on a schedule that doesn't offer much in the way of a breather.
The string of tests begins Friday night with the opener of a non-conference series against No. 14 North Dakota in the hostile environment of Ralph Engelstad Arena.
Then it's back home to the Kohl Center next weekend for the Big Ten Conference opener against No. 10 Minnesota. Series at No. 7 Ohio State and No. 12 Michigan follow, making it three weekends on the road out of four.
Besides the rivalries and the quality of the opponents, there's also the fact that the Badgers went 4-10-2 against them last season to weigh.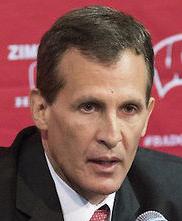 "It is a big stretch, but when the schedule came out and the rankings came out, 29 of the 34 games were going to be against ranked teams," UW coach Tony Granato said. "So the stretch really started from Game 1 to the end of the season."
Add after the next four weekends home series against No. 6 Penn State, which has started 5-0 and has given UW fits, and a Michigan State team that's showing early signs of progress, and you have the full view of the slippery surface that the Badgers will tread through the rest of 2018.
"I think we've got to step up here," freshman left wing Jack Gorniak said. "Every game's important at this level because you only get (34) games. So you've got to make each game count."
The significance of playing North Dakota Friday and Saturday to start a November of tests isn't lost on the 16th-ranked Badgers. Minnesota is UW's oldest rival, but games against North Dakota have carried an intensity just as strong both on the rink and in the seats.
The first Badgers game that Madison native and UW freshman center Mick Messner remembers attending was in 2006 or 2007 against North Dakota in front of a sellout crowd at the Kohl Center.
"Just an unbelievable atmosphere and rivalry between those two clubs," Messner said.
What's he expecting for his first games in the boisterous Ralph Engelstad Arena?
"The older guys have been letting us know that it's going to be kind of crazy when we go in there, and just be ready for it," Messner said.
Six seniors on the current Badgers roster were with the team the last time it played at the Ralph in November 2015. UW shocked then-No. 1 UND in the series opener, one of only eight victories for the Badgers that season.
"It doesn't get any better. It's a great place to play," senior center Seamus Malone said. "Their student section is there before we even warm up. It's a different atmosphere that a lot of guys haven't been a part of."
The Badgers last played North Dakota and Minnesota on consecutive weekends in November 2010, getting a win and a tie in Minneapolis before losing twice at home to North Dakota.
The back-to-back nature of the rivalry used to be a frequent occurrence, happening 18 times between 1974 and 2010 and twice in the same season in 1976-77 and 1983-84.
But it's less of a possibility since the schools split into different leagues in 2013. UW and Minnesota started playing in the Big Ten when it formed a men's hockey league; North Dakota was a founding member of the National Collegiate Hockey Conference.
Add to the intrigue this season that North Dakota played Minnesota last Saturday in the U.S. Hockey Hall of Fame Game in Las Vegas, with the Fighting Hawks winning 3-1 in front of a green-clad, sellout crowd of 7,412.
The Gophers pass the rivalry baton to the Badgers this week.
"It's going to be a lot of hard-nosed and gritty work all weekend," UW sophomore center and Verona native Tarek Baker said. "I think it's something our team is very excited for."
Series at Ohio State and Michigan later in November will mark the first time since the 2005-06 season that UW has faced teams returning from a Frozen Four appearance on two straight regular-season weekends.
Those opponents used the Badgers as leverage for their runs to the national semifinals last season. The Buckeyes swept UW on the final weekend of the regular season, then the Wolverines knocked the Badgers out of the Big Ten playoffs in two games.
In all, UW was 0-1-1 against North Dakota, 1-3 against Minnesota, 1-3 against Ohio State and 2-3-1 against Michigan last season.
With five of the Badgers' six Big Ten foes ranked in the top 20 as of this week, the schedule shapes up as one midterm exam after another.
"I don't think that our schedule is going to let up or there's going to be a break in it any time during the year," Granato said. "That's what we want as a program. That's what our fans want. That's what the players want. That's what college hockey wants.
"They want to see the best teams go at it and the best programs go at it week after week. So I love the way the schedule's set up."