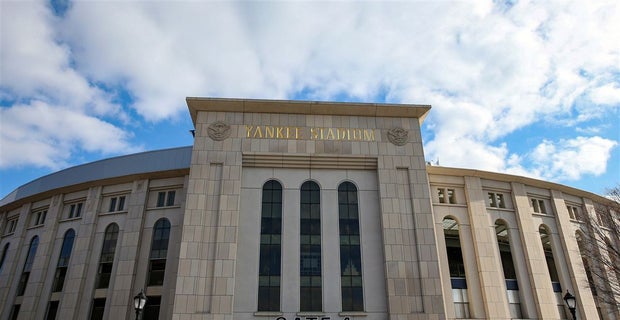 MADISON, Wis. — Ask D'Cota Dixon about potentially going 5-0 in bowl games during his tenure at Wisconsin, and you might get a shrug.
"I don't think about it, I never thought about it to be honest," he said.
But ask him about potentially going 5-0 in bowl games with a win in New York City, and you may never see a bigger smile on him.
"I feel like when I was [in New York City], we kinda got to travel around, walk around, it made you feel like Santa Clause was real or something," Dixon said. "I don't know. It was one of those type of places."
The senior safety went with Wisconsin (7-5, 5-4) head coach Paul Chryst to New York City for an early look at Yankee Stadium–the site of the Badgers' Pinstripe Bowl matchup against Miami (7-5, 4-4) on Dec. 27. Though the middle-of-the-pack bowl game is perhaps a disappointing way to cap off a lackluster season, Chryst and Dixon said New York around the holidays will be anything but.
"It was a lot of splendor, it was big, it was a lot of flashiness, all that stuff," Dixon said. "It was nice, it really was. It was cool."
"That was awesome to see him there and how he took it all in," Chryst said. "At the time when we first went out there…we hadn't heard any of the plans, what's going on with the bowl. And it was neat seeing him talk about New York. It'll be a great experience for us"
Dixon, a Florida native, will be among a whole slew of Badgers who may not have otherwise visited the Big Apple, nor played in a cold-weather bowl game. Wisconsin's last four have all been under the sun in Florida (twice), California, and Texas.
"I think just [want to] cherish those moments and experiences with my teammates," Dixon said. "Those are memories you won't get back. [We] don't go to New York often, so definitely just want to enjoy it. Whatever that is, I want to enjoy it, maximize that with my teammates."
But for others, it will be an opportunity to play closer to family than they have all season. Both freshman wide receiver Aron Cruickshank and sophomore quarterback Jack Coan are from New York, and Jonathan Taylor hails from just down the road in Salem, New Jersey.
"I'll have a lot of family and friends there," Taylor said. "Closest we played so far was Penn State, so definitely to get another opportunity to come out and watch me, it should be a fun experience."
And while Wisconsin would have loved to have the fun experience of playing in the College Football Playoff or in a New Year's Six bowl game, for Dixon, there's something just as rewarding about finishing the season, finishing his career, on a game with slightly lower stakes.
It'll allow him some time and head space to take it all in and focus on the experience rather than the score.
"These are the guys you sweat, you bleed with, you cry with, you smile with," he said. "So at the end of the day, whatever your goals are, the primary objective and goal is to love your brother and play with your brother and play for him.
"It's still gonna be a great experience and it's still gonna be fun, and it's still gonna be a memory that you can always share with your teammates."