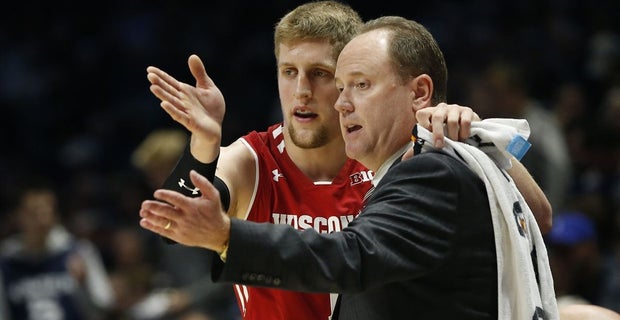 MADISON, Wis. — When the Badgers say their seven wins so far this season have all been team efforts, they mean it.
After blowout victories and close calls alike, Wisconsin (7-1, 1-0) has continued to attribute its success to being able to rely on good minutes from a deep bench–the deepest, in fact, that the Badgers have seen in years.
Wisconsin's starters account for an average 55.9 points per contest, while its bench is good for 20.6. It's the highest average since the 2012-13 season, Sam Dekker's freshman year.
Leading the way is Brevin Pritzl.
The redshirt junior guard brings an average 6.1 points to each game. But though he's hailed by his teammates as a deadeye in practice, he doesn't always show that off in games.
"He's been kind of down lately," D'Mitrik Trice said after Wisconsin's win over Iowa on Friday. "Guys have been staying on him to shoot the ball when he's open. Today he shot it with no hesitation and he hit some big 3's."
The biggest, specifically. Among his 12 total points on the night were a pair of 3-pointers. Wisconsin had been trailing the entire second half, but Pritzl drilled a trey (his second) with just 1:35 left on the clock, giving the Badgers a lead they'd finish the game with.
"We kept him on the floor because he didn't miss yesterday in practice," head coach Greg Gard said after the game. "He was on fire. So I said we needed to get him more shots and he hit the big one there at the end."
It's been hard to pinpoint exactly what flips the switch for Pritzl, what allows him to unleash the assassin his teammates see everyday in practice, but we'd be willing to wager a guess about what might help: defense.
In each of the games when Pritzl has truly come to life, his stats include much more than just a field goal percentage. Against Iowa, he added four rebounds and a steal. And on the night he dropped 17 points on Houston Baptist, he did close to the same.
"I thought he defended well, he rebounded well, he was really engaged and physical," Gard said after the Iowa game. "He did a lot of good things other than make shots."
Pritzl said that it's not a coincidence. He added some weight in the offseason and has learned how to use it against guys he has no business guarding.
"I've been guarding Taylor Currie a lot in practice because he plays the 4-man on most teams," Pritzl said. "But I'm gonna be honest, I'm 6-2, 200 pounds. Playing against 6-11, 255 is not exactly a matchup in favor in me, but it's just about playing hard and having effort, so you gotta do what ya gotta do."
That mindset has worked for the rest of Wisconsin's bench, too. Some of Kobe King's best shooting nights are coupled with a handful of rebounds. Aleem Ford knocked down 4-of-7 3-point attempts the same night he pulled down three boards and dished out an assist. Same goes for Charles Thomas, whose 10-point performance against Houston Baptist came with six of Wisconsin's 33 rebounds.
The Badgers bench is as successful as it is because no one comes into the game hoping to score. But when they mix it up in other ways, the scoring happens anyway.
"Against NC State, I wasn't there to hit 3's," Pritzl said. "I had to play defense, get a couple box-outs, rebounds late, just do my job, and stay ready to play."