Ohio State brutalized its first three dual-meet opponents, 92-26, and cruised to its third-consecutive Cliff Keen Las Vegas Invitational Title in the season's first month of action.
Hosting No. 19 Wisconsin is another challenge entirely.
Wisconsin, under first-year head coach Chris Bono, is undefeated in dual meets on the season (6-0), their longest undefeated streak to start a season since winning their first seven duals in 2006-07. Bono joined Wisconsin after leading South Dakota State through perhaps the best six-year stretch in that program's history.

WISCONSIN BADGERS
Big Ten
ROSTER / SCHEDULE
---
4 P.M. – SUNDAY, DEC. 9
ST. JOHN ARENA
COLUMBUS, OHIO
---
BROADCAST: Big Ten Network
STREAMING: BTN2Go ($)
Ohio State fields seven ranked starters; Wisconsin starts six. There is still a talent differential between the teams, as Ohio State fields five returning All Americans to the Badgers one, but Wisconsin isn't a team to be taken lightly.
At the Cliff Keen, Tom Ryan's men won their third team title in as many years on the strength of three individual champions and seven total placers. The Buckeyes outpaced second-place Missouri by 32.5 points.
Joey McKenna, Myles Martin and Kollin Moore each walked away from Sin City with a championship in hand, and they continue to be the team's backbone, with Luke Pletcher and Micah Jordan rounding out the "Fab Five" returning from podium finishes at last year's NCAA Tournament.
With three potential ranked vs. ranked matchups on the card Sunday evening, St. John Arena should be electric in the final dual meet of the calendar year, and the first home dual this season.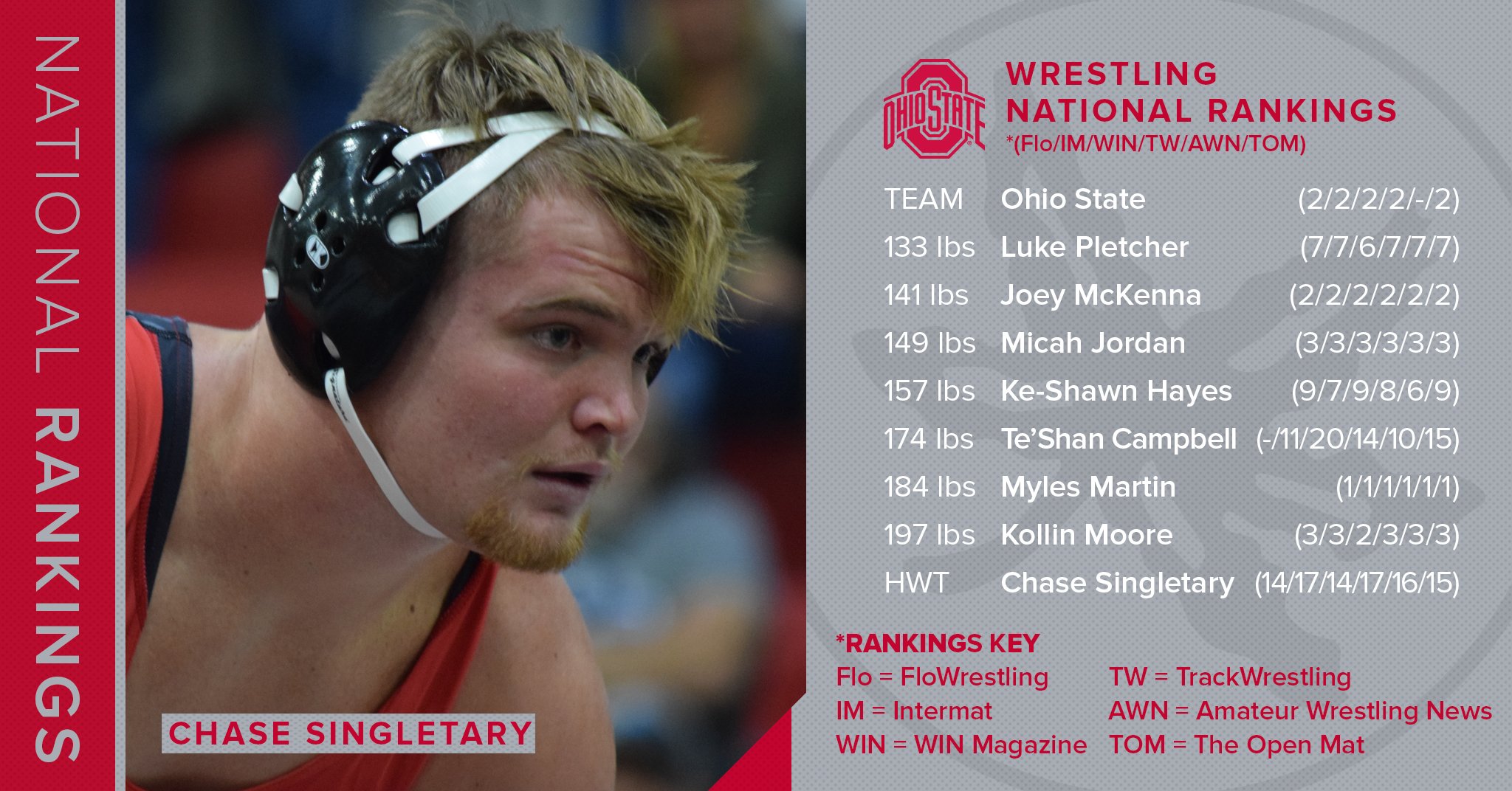 The Wisconsin Badgers

Head Coach Chris Bono

Wisconsin has a different feel to the program this year, with a change of leadership after 25-year head coach Barry Davis, a member of the National Wrestling Hall of Fame and Olympic silver medalist as a wrestler, stepped down as head of the program. He resigned after a disappointing Big Ten season that saw his Badgers win just three dual meets against six losses.
The program chose South Dakota State head coach Chris Bono as Davis' successor. Bono is 109-57 as a head coach, including his six victories already this season in Madison. The 10th-year head coach wrestled at Iowa State as a collegian, and got his start in coaching in Ames, as well, before spending three seasons as head coach at Tennessee-Chattanooga.
Every season under Bono's leadership, South Dakota State improved. In his first year as head coach, the Jackrabbits went 5-12 overall and sent one wrestler to the NCAA Championships. In his last season in Brookings, the team went 14-2, and qualified seven SDSU wrestlers for the NCAA's, with three earning All-American honors, including a national championship for Seth Gross – the first national champion in any sport at South Dakota State in the Division I era.
Wisconsin leads the all-time series with Ohio State with a record of 29-20-1, dating back to their first ever meeting in 1924.  In their last clash, the Badgers lost at the Field House in Madison, 15-23 during the 2016-17 season.
Notable Wisconsin Wrestlers

125 pounds: No. 19 Connor Brown

Brown is returning from an injury suffered in his only loss of the season, against Nebraska's Zeke Moisey. The sophomore followed Bono from SDSU, and is ranked as high as No. 13 in the class by The Open Mat. 
141 pounds: No. 12 Tristan Moran

Moran is fresh off a championship performance at the SIUE Cougar Clash, his second tournament of the year. While the Clash isn't quite as stiff a field as the Cliff Keen, Moran is no slouch. He earned his way into the national rankings with his sweep of the class at the Clash, along with an early-November win over then-No. 9 Josh Alber of Northern Iowa. He is 1-1 vs. ranked opponents this season, but faces his toughest test so far in Joey McKenna.
149 pounds: No. 18 Cole Martin

In what should be the second ranked vs. ranked match of the evening, Martin will face No. 3 Micah Jordan, his toughest opponent of the season thus far. The redshirt junior is 10-3 through the first month of action, and comes to Columbus on the heels of upsetting No. 11 Josh Maruca of Arizona State to with the Cougar Clash.
165 pounds: No. 2 Evan Wick

Redshirt sophomore Evan Wick is having an incredible season: he already has wins over three Top-10 opponents to his credit. He was an All American as a freshman last season, and finished third at the NCAA Championships. If Kaleb Romero is healthy, he'll face his toughest opponent to date; if he isn't ready to go, expect Fritz Schierl or Ryan Ferro to answer the bell.
174 pounds: No. 9 Ryan Christensen

One of the elder statesmen on this year's Badger roster, Christensen is ranked in the Top 10 for the first time in his career. He is 11-2 thus far, and is 3-2 against ranked opponents. He finished second at the Cougar Clash, losing to NCAA champion Zahid Valencia via a 13-5 major decision.
Heavyweight: No. 9 Trent Hillger

If Chase Singletary is able to wrestle, he'll have another shot to upend a ranked opponent in what could be a ranked vs. ranked matchup to end the night. Hillger has two wins over ranked opponents this season, including a win over Tate Orndorff of Utah Valley, the wrestler who ended Singletary's quest for a Cliff Keen title last weekend. Hillger is a perfect 11-0 on the season, while Singletary is 12-2, including last week's losses in Las Vegas.
Buckeye Breakdown

While Wisconsin holds the historic advantage in the all-time series, Tom Ryan has more wins against Wisconsin than he has losses. Since his arrival in Columbus, the Buckeyes are 5-2 against the Badgers, including wins in the the last two in a row.
Probable Matchups

Wt
OSU
Wisconsin
125
Brakan Mead (4-5, So.)
No. 20 Connor Brown (3-1, So.)
133
No. 7 Luke Pletcher (12-1, Jr.)
Jens Lantz (4-4, r-Sr.)
141
No. 2 Joey McKenna (9-0, Sr.)
No. 12 Tristan Moran (10-2, r-Jr.)
149
No. 3 Micah Jordan (11-1, r-Sr.)
No. 18 Cole Martin (10-3, r-Jr.)
157
No. 9 Ke-Shawn Hayes (12-2 r-Jr.)
Patrick Spray (3-6, r-So.) -OR-
Zander Wick (4-3, r-So.)
165
Kaleb Romero (6-2, r-Fr.) -OR-
Ryan Ferro (4-0, r-Fr.) -OR-
Fritz Schierl (11-5, r-So.)
No. 2 Evan Wick (12-0, r-So.)
174
Te'Shan Campbell (6-2, Sr.)
No. 9 Ryan Christensen (11-2, r-Sr.)
184
No. 1 Myles Martin (6-0, Sr.)
Mason Reinhardt (10-5, r-Jr.)
197
No. 3 Kollin Moore (6-0, r-Jr.)
Andrew Salemme (1-9, Fr.)
HWT
No. 14 Chase Singletary (12-2, r-Fr.) -OR-
Gary Traub (8-2, r-So.)
No. 9 Trent Hillger (11-0, r-Fr.)
Myles Martin was recognized as a Big Ten Wrestler of the Week on Dec. 4, after a perfect 5-0 weekend in Las Vegas included three major decisions and a pin. Two of those majors came against top-20 opponents before he capped his title run with a drubbing of the nation's third-ranked 184-pounder, 11-5, in the finals.
He was named Outstanding Wrestler of the Cliff Keen tournament, as well.
With such strong performances in Las Vegas, the Buckeyes are well represented in FloWrestling's `pound-for-pound' Top-20: Ohio State represents 20 percent of the group. The list includes No. 8 Myles Martin, No. 11 Joey McKenna, No. 15 Kollin Moore and No. 18 Micah Jordan.
Overall, Ohio State should start as many as seven ranked wrestlers Sunday evening, as Singletary vaulted himself into the national spotlight with wins over No. 9, and No. 13 last weekend, and with two total pins to his credit before his tournament ended with an injury default after what appeared to be a serious ankle injury. After close medical examination, Singletary walked away uninjured, and is likely to take the mats Sunday against Hillger.
Other classes with an -OR- in the lineup at this point include 165 and 174, as Kaleb Romero and Te'Shan Campbell battle some minor injuries. Both could wrestle Sunday if they're ready to go, but their back-ups could well see the mat, as the staff knows early season duals aren't incredibly important to the team's overall goals of winning Big Ten and NCAA titles.
WIth regard to Campbell at 174, Ryan was clear that he is still the team's starter; he simply didn't wrestle last week because of the injury.
What to Expect

Ohio State should easily win at least six matches, including four of five in the lighter half of the lineup and at least two of the three upper-weight matches. Assuming Brown, Wick and Christensen each hold serve for the Badgers, Bono's men will have to pull off at least one upset to come within striking distance of the victory.
Even so, the Buckeyes continue to search for clear-cut answers at 165 and 174, and Ke-Shawn Hayes at 157 needs to show that he can consistently wrestle like an All American. If Chase Singletary wrestles, it provides another chance for the young Buck to prove himself against ranked competition, and further establish his credentials as a legitimate contender for postseason glory.