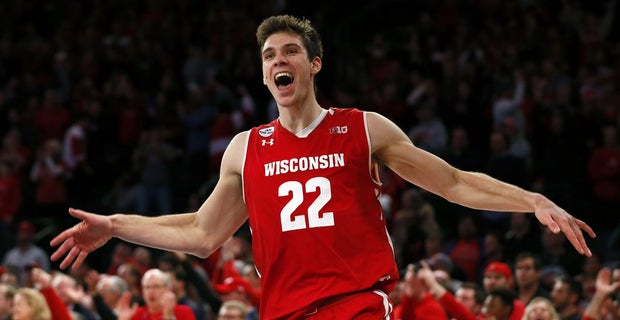 Coached by: Greg Gard (57-36 in 3 seasons and 2 Sweet 16's)
2017-18 record: 15-18, 7-11 Conference,
2018-19 conference projection: 7th in the Big Ten
Losses: Andy Van Vliet
The Badgers will not miss much production from a season ago. The only player worth mentioning, Van Vliet, averaged just over 3 points a game.
Key Returners:
Ethan Happ (6'10/237lbs.), Redshirt Senior, Forward – 17.9 ppg.
Brad Davison (6'3/206lbs.), Sophomore, Shooting Guard – 12.1 ppg
D'Mitrik Trice (6'0/187lbs.), Redshirt Sophomore, Guard – 9.4 ppg.
Brevin Pritzl (6'3/198lbs.), Redshirt Junior, Guard – 8.9 ppg.
The Badgers return a handful of shooters who can spread the floor for All-American Ethan Happ. The long, versatile big man led the Badgers in points, free throw attempts/makes, rebounds, assists, steals, and blocks as a redshirt junior. The Badgers missed D'Mitrik Trice last year after an injury early in the season. The aggressive guard executes nicely in P&R action and can make buckets look easy at times with his ability to blow by defenders or pull up. Pritzl and Davison can both shoot it. Davison should be more comfortable this year playing off the ball after being forced into point guard duty last year as a freshman when Trice got injured.
Newcomers (eligible):
Trevor Anderson (6'2/201lbs.), Redshirt Sophomore, Guard
Tai Strickland (6'2/172lbs.), Freshman, Guard
Taylor Currie (6'8/226lbs.), Freshman, Forward
Joe Hedstrom (7'0/223lbs.), Freshman, Center
Carter Higginbottom (6'0/183lbs.), Freshman, Guard
After averaging just under 10 points as a freshman at UW-Green Bay, Trevor Anderson decided to transfer to Madison where he looks to carve out a role after sitting out all last season. The former Wisconsin Mr. Basketball and AP Player of the Year adds another weapon to Coach Gard's arsenal. Tai Strickland, the son of Rod Strickland, was a late bloomer in high school and is regarded highly by Coach Gard.
Outlook: Wisconsin will be a more talented and experienced team this year, despite their lack of depth and size on the wing. Trice is a catalyst on offense and will alleviate Happ of some of the scoring pressure. Khalil Iverson, a powerful athlete will take on the duties of being a "defensive stopper" once again. The Badgers have plenty of shooting and a double-double machine down low to balance their attack. Expect a similar style to the Badgers of recent years, methodical tempo, deliberate on offense, and gritty. They only won 2 games where the opposing team scored 70 or more points last season.