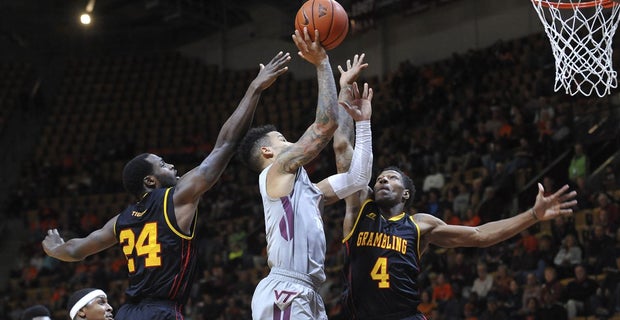 MADISON, Wis. —  The lesson in Greg Gard's locker room this week was: never judge a team by its cover (read: name and record).
As No. 16 Wisconsin (9-2, 2-0) has been preparing for a non-conference matchup with Grambling State on Saturday, the Badgers' head coach cautioned his team against looking at the Tigers' 6-6 standing and taking them lightly.
"I told these guys today, don't get caught up in the name," Gard said after practice on Thursday. "Because you watch the tape, they have a chance to be pretty good. You can see why they're picked to win their league. They've shown it in flashes. Their record doesn't show it.
"You watch the tape for a little while, it's easy to see there's talent there."
Enough talent, in fact, to make it to the top of the Southwestern Athletic Conference last season with a 17-14 overall record, 13-5 in conference action.
This season, the Tigers lead their conference in eight statistical categories, including field-goal percentage (45.1), 3-point percentage (39.5), and rebounding (39.3).
For some of the Tigers, this matchup with the Badgers (Wisconsin's last non-conference game at home this season) will be a bit of a homecoming. Grambling State's Dallas Polk-Hilliard, Travon Bunch, and Devante Jackson all came to Louisiana the from different parts of Wisconsin.
The Tigers' Milwaukee-native head coach, Donte' Jackson, and assistant coach, Demetrius Moore, might have a little something to do with that.
"Obviously when you have some people on staff from Wisconsin the thought would be normal that you'd reach back to where you're from with connections," Gard said.
The Badgers face off with the familiar crew 11 a.m. at the Kohl Center.
How to Watch:
Where: Kohl Center (17,287)
When: Dec. 22, 11 a.m. CST
TV: Big Ten Network
TV Crew: Chris Vosters and Ben Brust
Radio: Badger Radio Network, Matt Lepay and Mike Lucas
Listen: 1310 AM/101.5 FM, iHeartRadio
Projected Starters:
Wisconsin
Grambling State
1 Ivy Smith, Jr G 6-0, Jr.

3 Dallas Polk-Hilliard G/F 6-7, Jr. 

4 Anthony Gaston G 6-4, Jr. 

24 Travon Bunch C 7-1, Jr. 

25 Devante Jackson F 6-9, Jr. 
Predictions:
Wisconsin has outscored Grambling State by 35.5 ppg in the previous two meetings. Prior to Saturday, the Tigers have faced just one other power-six opponent this season, falling 78-57 to LSU.
The Badgers have yet to lose a game at home (5-0) this season. Inside the Kohl Center, UW is putting up 86.0 ppg on 52.0 percent shooting, including 42.9 percent from downtown.
GSU is good enough defensively to make things interesting. The Tigers lead the SWAC is defensive field goal percentage, rebounding, and blocked shots.
However, on the road this season, GSU is just 2-5 with their lone wins coming against Niagra and Portland. In those seven contests, the Tigers are averaging just 64 ppg.  – Flood
Wisconsin 74 Grambling State 58
Grambling State doesn't always struggle, but when it does, it's on the road. The Tigers are just 1-5 away from home this season, and they've yet to shoot 50 percent from the field when they're the visitor.
Meanwhile, Wisconsin continues to hold opponents to less than their best–62.4 points per game on an average 40 percent shooting. 
The Tigers do extremely well on the defensive glass, though. They lead their league with 29 per game, while the Badgers are at the bottom of the Big Ten when it comes to rebounding their own missed shots. But that ultimately comes down to how many times they have to chase down a miss, which on paper, is less than Grambling State. – Barney
Wisconsin 84, Grambling State 67