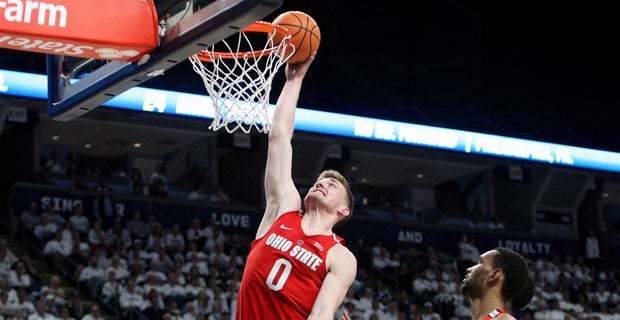 MADISON, Wis. — Wisconsin assistant coach Howard Moore knew Micah Potter would be a good fit for the Badgers the moment he committed to transferring.
Because any player who isn't a good fit, who doesn't embody the Wisconsin way, doesn't commit.
"We knew if we got him, then he's really bought into what we're selling," Moore told Badger247. "If we didn't get him, then he's not willing to do the things we ask of our players on a daily basis.
"And obviously he's bought into that. So we're glad to have him and it's a huge addition."
No. 16 Wisconsin (8-2, 2-0) was among at least five other schools to court Potter when he announced early this fall his intentions to transfer out of Ohio State. And while any of them likely would have provided a good home on the court and in an offensive system, Moore said he was most impressed with Potter's off-the-court considerations when choosing his new team.
"That was huge for me, that he really wanted to know what type of guys we had," Moore said. "It wasn't just, 'hey I'll play with anybody.' It was more of, 'what type of character is in that locker room at Wisconsin? Is that gonna be better than where I'm at now?'
"I like the fact that that really mattered to him, his family."
That character assessment goes both ways. As the reality sets in of what will be an Ethan Happ-less roster next season, the Badgers are preparing to fill not only his presence in their offense, but his energy and his leadership.
They think Potter can help with both.
"We're going to need someone to step in and take some more of those minutes," Nate Reuvers said. "He's a guy who has experience playing in the Big Ten. We definitely need that next year."
Potter will be able to test that theory in practice this season, but per the NCAA's transfer rules, he can't see action in an actual game until the second semester of the 2019-20 season. Wisconsin could appeal that, though, and try to get him on the floor for the start of next season since he didn't play even a possession this year.
All his minutes came in his first two seasons with the Buckeyes. He averaged 14.1 as a freshman and 10.1 in his sophomore season, putting up 4.1 points per game during both. And as a lengthy 6-9 forward, Potter fits the build of the type of player that's able to stretch the floor and do well in Wisconsin's swing offense.
"It's a perfect fit," head coach Greg Gard said in the statement announcing Potter's transfer. "In terms of our system, how he plays, how we play with our bigs, and what he can bring to the table as a player."
And as a teammate.
As a Big Ten vet, Moore said Potter is already a competitor. He's not intimidated by the big stage.
"He's been around this league," Moore said. "He's played a lot, and he's hungry to get more done in the next year and a half of his eligibility."
And Moore is confident he will, but not because he's already a valuable player, but because he's already a Badger.
"I think he's a guy that's gonna fit right into what we already have," Moore said. "It's not gonna be something where we've gotta change and mold him into what a Wisconsin player is. I think he gets that. He signed up for it."