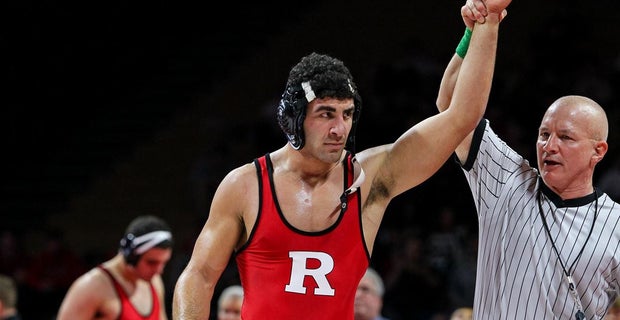 The Rutgers wrestling team face a tough pair of weekend tasks as it will host No.10 Wisconsin (6-1) on Friday night and that will be followed by a Sunday dual against No.3 Oklahoma State. Looking at the first of those two contests, the Badgers present an interesting matchup.
Rutgers (6-2) is currently ranked No.24 in the nation, coming off a 22-15 loss to No.8 Minnesota. There are also four Scarlet Knights ranked in the top 20 and against Wisconsin, and only one of those grapplers will face a ranked opponent. Anthony Ashnault is ranked No.2 per InterMat and FloWrestling and he will face No.16-ranked Cole Martin.
Rutgers standout 133-pounder Nick Suriano is ranked No.2 by FlowWrestling while John Van Brill holds a No.15 consensus ranking and 184-pounder Nick Gravina is now No.12 per FloWrestling.
At 197 pounds, it will be a battle of unranked combatants as Matt Correnti should come up with a victory  That is a weight class where the Badgers have struggled. Wisconsin freshman Andrew Salemme is just 1-12 while Correnti brings in a 10-6 overall record.
If Rutgers can sweep those five matches, it may come down to a matter of how the matches are won.
It would also mean that the rest of RU's unranked grapplers will have to avoid pins, tech falls or major decisions. That will be a tough task in some matches as Wisconsin 165-pounder Evan Wick holds a No.3 ranking while heavyweight Triston Hilger is the No.9-ranked heavyweight. Rutgers heavyweight Christian Colucci has struggled against ranked opponents and freshman Stephan Glasgow is still getting his feet wet at 165 pounds.
One of the more intriguing matches will come at 174 pounds as Rutgers is expected to send out Joe Grello to face No.10-ranked Ryan Christiansen. Last time out, Grello nearly pulled off the upset of Minnesota's No.15-ranked Devin Skatzka, who earned a 10-8 decision.
It will be a battle of unranked opponents at 125 pounds as Rutgers' Shane Metzler (7­-7) is set to face Wisconsin's 9-3 Connor Brown.
Lastly, Rutgers may turn to 141-pounder Peter Lipari (6-5) again to face No.16-ranked Tristan Moran. All that may be asked of Lipari is to keep this one close as his bout is sandwiched between Suriano and Ashnault, both of which could be convincing wins for Rutgers. That duo has been dominant on the season, but Rutgers will need some other grapplers to step up in order to come out with a win over the Badgers.
The Scarlet Knights will have the advantage of what expects to be a raucous home crowd and the matchups are rather favorable. In the midst of what is a tough stretch of duals for the Scarlet Knights, a win over Wisconsin would be a confidence booster and also bump RU's national ranking.
Friday night's contest will begin at 7 p.m. and will be aired Live on the Big Ten Network.