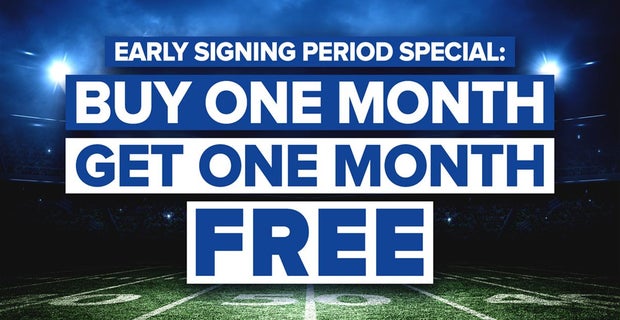 This is a crucial time of year for Wisconsin Badger fans, as the Early Signing Period is upon us soon. Football recruiting season is at its peak and you will want the inside scoop on what's going on.
What better time to become a premium member of Badger247?
We'll make the decision simple: JOIN NOW and get TWO MONTHS OF PREMIUM MEMBERSHIP FOR THE PRICE OF ONE!
That's right, buy one month, and get another month FREE!
Our team of national, regional, and local experts have you covered on all things Badgers. Erin Barney and Evan Flood bring you closer to the Cardinal and White as well as exclusive recruiting coverage that can't be found anywhere else.
You don't need a special code to get the deal, Just CLICK HERE and select the Monthly Membership package.
So, get on the inside, and then tell all your Badger friends!
Nobody dominates National Signing Day like Badger247, providing the most exclusive and accurate analysis of Wisconsin's incoming recruiting class. UW currently has its best recruiting class ever and likely aren't done!
Camp Confidential has the latest Wisconsin insider recruiting rumblings
Are the Badgers on the verge of flipping a committed prospect?
Micah Potter breaks down his decision to transfer to UW
COME ON AND JOIN BADGER247! SIGN UP HERE! 
TERMS: Promotion ends December 19 at 11:59 p.m. PST. The offer for one month free is available to all new monthly members. The seven-day free trial does not apply when accepting this offer. Subscription renews automatically at the regular rate at the end of the two-month term. Taxes may apply. 247Sports.com reserves the right to alter or cancel this promotion at any time. Please write support@247sports.com with any questions you have.