MADISON, Wis. — Since the NBA initiated the one-and-done rule in 2006, preventing players from entering the draft straight out of high school, 85 prospects have spent one year in college before entering the league.
None of them have attended the University of Wisconsin.
But it's not due to a lack of effort. In fact, UW's coaching staff thinks it's preposterous that anyone would believe the stereotype that one-and-done talents can't thrive in a Badger uniform or the idea that head coach Greg Gard isn't looking to mix a high school prodigy with a typically older roster, featuring players who have been entrenched in certain roles for sometimes up to four or five years.
"It would be absurd and it would be ridiculous on our part as coaches to not take a kid who is talented enough to be considered a good enough player to play one year of college and then go onto the NBA," associate head coach Howard Moore said. "That whole stigma, lie, fabrication is absurd."
Assistant coach Joe Krabbenhoft can't even wrap his head around that stereotype. In fact, he was a five-star prospect that chose Wisconsin over Kansas and a number of top programs.
"I don't have a good answer for that," said Krabbenhoft who is one just three 247sports composite top 30 ranked prospects to ever wear the Cardinal and White. "We're going to recruit the right fit and guys who want to be here for the right reasons and want to be a part of something bigger than themselves.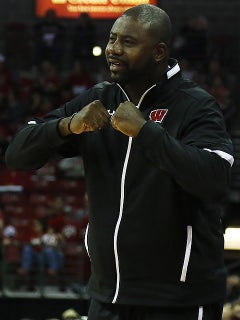 "There's plenty of one-and-done guys who have that philosophy. Some have been in the state who are great kids. It just hasn't happened yet. We're not against it by any means.
"I think it's just a matter of time."
The Badgers hope that time is coming soon as there a couple of likely one-and-done talents currently sitting in their own backyard.
In 2020, Jalen Johnson, a native of nearby Sun Prairie and now a standout at Nicolet High School, currently has UW in his final 15 and it's expected the Badgers will hang around for the finish. The following class is headlined by Sussex Hamilton G/F Patrick Baldwin Jr., who is originally from Illinois, but has a long relationship with Moore that goes back to when the assistant coach was on staff at Loyola (IL) with Baldwin's father, now the head coach at UW-Milwaukee.
So how does Wisconsin try and sell big time recruits without any one-and-done track record and with just two players (Devin Harris, Sam Dekker) who have left school early to enter the NBA Draft since the Bo Ryan era?
The one thing they're not going to do is blow smoke.
"There always has to be a fit. If the kid is looking to be a part of something greater than themselves within that year, then yeah, it's a great opportunity," Moore stated. "We're not going to scrap what we've built for over 20-plus years to just allow an 18-year old to totally come in and change the fabric and DNA of who we are.
"We've sat down with recruits and explained to them we're not opposed to that at all. It just so happens that four and fifth-year guys have always earned their stripes. Some of that may be because we're not getting five-star recruits, so they have to wait until they develop into a first-team All-Big Ten player.
"That's just who we've been able to build the program with, but we're not opposed to one-and-done's. That's something we definitely take a look at if it fits and it makes sense."
Few programs have been able to replicate Wisconsin's success nationally.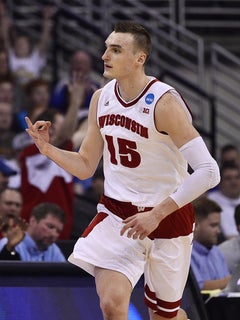 The Badgers have missed just one NCAA Tournament and finished lower than fourth in the Big Ten Conference just once since 1998. Since 2001-02, UW ranks No. 12 in winning percentage (.718) among power-six teams. The program has also reached four of the last five Sweet 16's and reached that point or gone further in six of the last eight years — the only team in the country who can say that.
More impressively, they've done it without a ton of high profile recruits and loaded recruiting classes. In fact, there isn't one player currently on Wisconsin's roster that was a 247sports composite top 50 ranked prospect.
Despite the massive on-court success, elite players have been hesitant to jump on board. In fact, the program hasn't had a McDonald's All-American since 2003 when Brian Butch signed with the Badgers.
In addition to their track record, or lack there of, with NBA talent, style of play also comes into question with UW's ability to land top flight recruits.
The Badgers consistently rank outside the top 300 nationally in possessions per game — a stat that can be misleading considering that this season, they average roughly five possessions fewer than Kentucky, who is loaded with NBA and one-and-done talent.
"There's a lot negative recruiting that goes on. If you're a program that's winning and having success and people are recruiting against you, they've gotta find something that's a chink in your armor," Moore explained. "That's one of those things. People try and talk about style of play when they recruit against us.
"Our style of play is winning basketball games. Whether it's 70 possessions or 60, the bottom line is what are you doing with those possessions? Are you being smart or efficient with those possessions? Or are you just jacking the ball up so you can sell some type of pace that doesn't get much done?"
At the end of the day, is Wisconsin going to sell most recruits on their ability to ship them off to the NBA as fast as possible? No. Are they going to stand in the way of a five-star talent should they been good enough to make an impact on day one?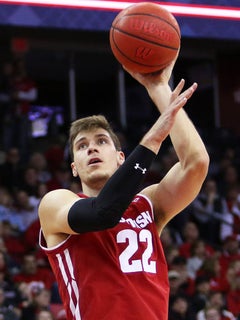 Absolutely not.
"What's said about us at other programs, we don't need to speculate on that. We know what they say about us, but if the topic does come up — we're just here to make you the best player and best person and help you get your degree," said Krabbenhoft. "This a great place to do it. Why not play on the biggest stage and give yourself a chance to do that?
"We would never want to prevent a kid from reaching their ultimate goal, whether that's in one year or five years. We're here to help our guys reach their goals on and off the court."
Second-year assistant Dean Oliver, an Iowa alum, spent two seasons with the Golden State Warriors and eight more professionally overseas. Oliver says the development players are getting at Wisconsin is "second to none."
"The things we emphasize and how fundamentally sound you become and the habits you build in one year under this program, can really prepare you — not just for the NBA, but professional basketball in general," said Oliver, who was a three-time All-Big Ten performer with the Hawkeyes. "That's what guys don't understand. When you go to the next level, the habits you build in college become paramount to your success as a pro.
"If you don't have those habits, there's no one that's going to push you on the pro level on those things. They'll just find another guy."
Not every five-star prospect is a fit in Madison either. In fact, Gard and company have passed on offering numerous one-and-done talents. Since Gard accepted the head coaching position in 2016, you can count the number of five-star players UW has seriously pursued on one hand.
Finding a one-and-done talent that's not simply using college to solely elevate their draft stock can be a challenge as well. 
"Anybody that's coming in thinking they're one-and-done, that isn't the type of mentality that fits any program," said Oliver. "That's not just Wisconsin. When you come to a program, you're trying to help that program win. That one-and-done — that should be in the back of your mind. If that's in the front of your mind when you come in, that's not going to fit anybody.
"We want guys who want to be a part of Wisconsin basketball. If they happen to be one-and-done…great. It's not that we're against it. We want the same talent everyone else does, but we want the mentality that you're going to come in and be a part of a program and it's not about just about one recruit's success."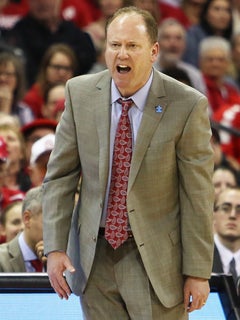 The closest Wisconsin ever came to landing a sure-fire one-and-done talent likely came in 2015 when former Dominican star Diamond Stone signed with Maryland over UW, UConn, and Oklahoma State.
To the Badgers' credit, even when they invest years in high profile recruits only to come up short, it's generally worked out for the better and paved the way for players like Ethan Happ, Frank Kaminsky, Jordan Taylor, Josh Gasser, Zak Showalter, or D'Mitrik Trice — under-recruited talents that develop into stars or core pieces to the foundation.
There aren't many programs the Badgers haven't beaten in recent memory either. In the last decade, Wisconsin has head-to-head wins over Duke, Villanova, North Carolina, Kentucky, Virginia, Michigan State, Arizona, Syracuse, Georgetown, and Oregon to name a few — teams, who on paper, are far more talented. 
That said, even when big names turn them down, UW's coaching staff isn't losing a ton of sleep anymore, knowing they can go into March or April if needed, trust their evaluations, and find hidden gems that the rest of the country has overlooked.
"When high profile kids de-committed or kids that we missed out on, there's gonna be frustration," Moore said. "You put so much time and effort into recruiting. There's a lot of dinners you miss at home with the family, because you're in the gym.
"You want to make sure that you're not putting a lot of effort in and not getting the results. You want to focus on kids that realistically can be here and want to be here. I think that makes a difference. When you're just chasing ghosts, then you're putting yourself in a tough position.
"You want to go after kids that fit the model of your program. We've been fortunate that way."
While Wisconsin reached back-to-back final fours and a national championship game in 2014-15, they can't always bank on some of the events that took place to lead them there.
Kaminsky, a low three-star recruit, sparingly played during his first two seasons on campus and later developed into the National Player of the Year.
"If you would have told me when I recruited Frank Kaminsky, he was going to be an All-American, I would have laughed at your face," Moore joked.
Gasser, Ben Brust, and Duje Dukan were all additions made possible by coaching changes at other programs, de-commitments, and players violating team rules. In fact, an uptick in recruiting helped pave the way for those two final four runs.
Sam Dekker, a five-star talent opted to stay home. Bronson Koenig, a top 100 prospect with offers from North Carolina, Duke, and Kansas, did the same. Some considered Nigel Hayes to be a four-star prospect as well.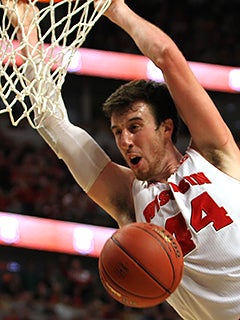 Without a doubt, Wisconsin's blueprint of being able to compete with anyone in the nation without the help of a ton, if any, NBA talent works. Even after a 15-18 season plagued by injuries and roster turnover, the Badgers are now sitting at 9-2 overall with one of the best resumes in college basketball, proving that 2017-18 was a fluke.
However, getting back to the Final Four or being a consistent national title contender could require elite prospects to finally start taking a leap of faith.
"We definitely feel like we can get there again," said Oliver. "This program has a strong tradition of developing guys. If there are special talents out there who want to come to Wisconsin, we would welcome that too.
"The program is never going to change, especially because of the success that's happened the last 20 years. We try and find guys who fit what we do and what we're about. It's not just talent. We identify guys who we want to be a part of our program."
It would be very easy for Wisconsin to get caught up in empty promises. If raw talents like Happ and Kaminsky can develop into two of the best college basketball players this decade, imagine what they could do with a top 10, top 25 prospect, even if just for a year?
Landing one-and-done talent isn't a necessity for winning a national championship. The last three title winners, North Carolina and Villanova (twice) were veteran squads, but each had a handful of players selected in the following NBA Drafts.
As a program, Wisconsin has had just five players selected in the NBA Draft since 1998.
Promising the world to a 17-year-old might get more top prospects to bite. However, whether the Badgers are pursuing a one-and-done talent or an under the radar, little known prospect, the message is pretty much the same.
"We try and under promise and over deliver. That's the way I can go to sleep every night, knowing I've done my job the right way," said Moore. "I can look in the mirror knowing that we're not being used car salesmen to get a kid here. If it doesn't work out, we know we had the right message."