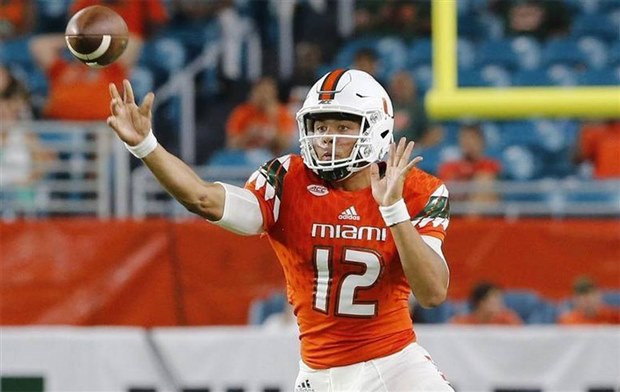 The Miami Hurricanes will take on the Wisconsin Badgers in the New Era Pinstripe Bowl on Thursday afternoon. The game is scheduled for a 5:15 p.m. start time and it will be televised nationally on ESPN. The college football odds for the game have the Hurricanes favored to pick up the victory in this one.
College Football Odds
Miami -2.5
Total: 47 points
Miami is going to throw Malik Rosier out there as the starting quarterback. N'Kosi Perry had started the last three games and led Miami to a pair of victories, but he posted something on Snapchat that got him suspended for the bowl game and it's not the first time this season he's been reprimanded for something he did that was dumb.
Rosier started six games this season, throwing for six TDs and five picks. He's going to have to play well here against the Badgers, a tough-nosed Big Ten team that loves to play defense and run the football.
These two schools played in the Orange Bowl last year, Wisconsin came back from down double digits to win. Wisconsin loves to run the football with Johnathon Taylor, he ran for almost 2,000 yards this season and 15 touchdowns. Miami saw some decent running backs during the regular season in the ACC, but Taylor is one of the best in the country at that position.
The conditions are going to be cold, but that could play a nice role for the Hurricane defense, which held opponents to 130 yards less per game than their average. When Wisconsin won games this season, they averaged 336 yards per game. When they lost, they averaged 187, which is still quite a bit, but when that's the biggest part of your offense, it's not enough.
The Hurricane defense proves to be the difference here and look for Rosier to have a nice game.
Free Pick: Miami
$25 of picks FREE! No Obligation – No Credit Card Required – Becoming a member is Fast and Free!
Stay on top of the latest odds and line moves for the NFL, college football and MLB Playoffs with our real-time odds from Las Vegas and offshore!