MADISON, Wis. — Kobe King admits he can be too passive sometimes.
Arguably Wisconsin's most talented shot creator, King has attempted more than five field goals just three times in the first 15 games. In fact, King has taken three or fewer shots from the field in UW's last three outings.
With Big Ten Conference play now back in full swing, head coach Greg Gard wants King to ramp it up as well. His message to the freshman guard?
"Let it rip. Play freely."
"He said we need energy and production off the bench," King told Badger247. "As a bench, we've struggled in bringing the offense and that's contributed to some of our losses. He wants us to stay aggressive. Guys are worried about making mistakes and don't want to come out, so he said not to worry about that and just play."
"I've always been a guy that takes things as they come," King continued. "As I make some shots, I get even more comfortable. That's why when I come in, I'm not always looking for mine, I'm just trying to get into the flow of the game, but if things come, they come.
"I'm not trying to force anything."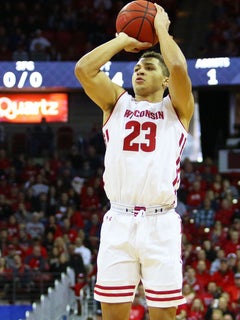 King is averaging 5.5 points and 2.1 rebounds per game this season as a reserve. A redshirt freshman, King played in 10 games last season before suffering a broken patella in early December.
Physically, the injury has healed. Mentally, it's a different story and has contributed to King's timidness to attack the rim at times.
"It's in my head a little bit," he said. 'I don't have all my explosiveness back in it, but that will come with time. Week-by-week, it's getting better and better."
Get breaking news/updates sent straight to your inbox! Sign up for the FREE Wisconsin newsletter.
In Wisconsin's three losses, they've gotten a combined 19 points from their bench, with the high being eight versus Minnesota. 
King said he added some confidence in the knee during Sunday's win at Penn State. Scoring four points, King finished off two tough buckets around the rim, including one in transition over PSU's 6-foot-9 center Mike Watkins.
"He needs to find his role, find his niche, and how he can play," associated head coach Howard Moore said. "It's hard to tell a redshirt freshman to be aggressive. He doesn't have a whole lot of games under his belt."
Like most young players, King is also trying to find the right balance between being aggressive and avoiding mistakes. While Gard certainly has a longer leash than his predecessor when it comes to playing through turnovers and bad shots, there can still be a quick trigger for freshmen who try and do too much outside the flow of the offense.
"It plays a decent role in the way I play," King said of avoiding mistakes. "That's partially on me too. I have to play my game. I just don't want to make mistakes. Sometimes I get robotic out there.
"That's something I have to shake."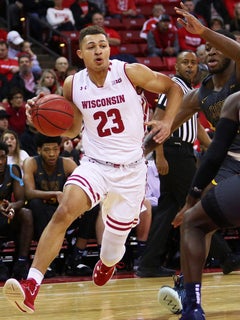 Great players also tend to marginalize those around them as well.
A former Mr. Basketball selection at La Crosse Central, King has never played with anybody quite like Ethan Happ. In fact, he's never played with a dominant center, period, often playing power forward and center himself for an undersized Red Raiders squad. 
With the 6-foot-10 senior doing all of his damage within five feet of the rim and opponents unwilling to vacate the paint and respect Happ's scarce jumper attempts, driving lanes for King are hard to come by.
"I've never really played with somebody like him — a guy who's that skilled on the block and demands that much attention," King explained. "There's even times when I'm just looking for him rather than looking for my own drive or my own shot."
That's not to say King hasn't feasted off the attention Happ draws. Shooting 50.8 percent from the field, and 37.0 percent from 3-point range, King gets a lot of his open jumpers off Happ's passing ability.
"He's also great, because that's how I've gotten a lot of my 3's off him kicking it out," King said. 
King has three double-figure scoring efforts to his name this season, including a career-high 14 points against Oklahoma in the Battle4Atlantis semifinals.
Since Gard expressed his desire for King to become more opportunistic, King has taken that to heart.
"When you've got your head coach saying, 'I need you to do more.' That's a good thing," said Moore. "That should be something that gets you excited.
"I see him getting excited about that. I see him in practice trying to find those times to be aggressive and assertive offensively."