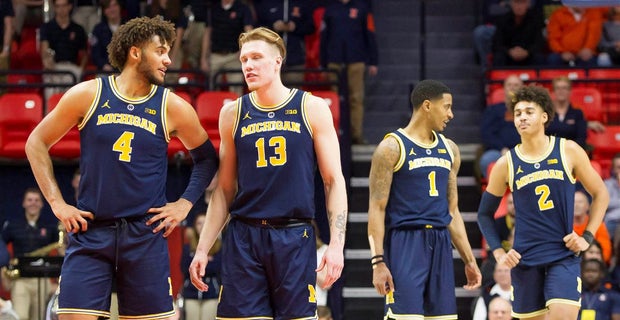 MADISON, Wis. — It wasn't too long ago that we were on record watch for a potential best start in Wisconsin program history. At 8-1 early in December, the Badgers were on pace to hit the previous top mark of 15-1 set by the 2014-15 squad.
Wisconsin's next opponent started down a similar path, but with one major difference: they saw it all the way through.
In a 20-point win over Northwestern on Jan. 13, No. 2 Michigan improved to 17-0, which is the best starting record in program history. Only two teams have ever reached 16-0—the 1985-86 Wolverines and, most recently, John Beilein's 2012-13 program.
Between buzzer beaters and blowouts, the Badgers have a historically mixed bag of results against those elite of elite Michigan teams. Before the Badgers (11-5, 3-3) meet the Wolverines (17-0, 6-0) for the first of two times this season on Saturday, we take a look back at some highlights from the years they clashed with the previous best-starting Michigan teams:
1985-86, Michigan started 16-0, finished 28-5
Wisconsin lost both meetings during the 1985 season. Under then head coach Bill Freider, the Wolverines ascended to the AP Top 25's No. 2 ranked team at one point, and finished with a 28-5 record at No. 5.
Stacked with future pros Gary Grant, Richard Rellford, and Glen Rice, the 1985 Wolverines crushed coach Steve Yoder's Badgers, first, 91-64 in Crisler Arena. A few weeks later, they beat them in Madison, 94-74. That win was part of a five-game streak that Michigan ended the regular season with before getting knocked out by Iowa State in the second round of the NCAA Tournament.
2012-13, Michigan started 16-0, finished 31-8
Ironically, the Badgers had much better luck against the almost-National Champions of 2012. It would end up being Bo Ryan's fourth-to-last season at the helm at Wisconsin, and Sam Dekker, Frank Kaminsky, and Zak Showalter were all underclassmen.
The Wolverines came to the Kohl Center ranked No. 3 early in February and left on the losing end of an OT thriller—one that, to this day, remains part of Wisconsin's highlight reel. With less than :03 seconds left on the clock and down by 3, Mike Bruesewitz inbounded a long pass to Ben Brust, who took one dribble to get just over half court before hoisting and draining a parking lot 3 at the buzzer to send the game to extra time.
Michigan only scored once during overtime—a layup by Tim Hardaway Jr. to tie up the game again—and the Badgers won, 65-62, it on another Brust 3-pointer with less than a minute to play.
The Wolverines had a shot at revenge in the quarterfinals of the Big Ten tournament, but Brust and Co. fought back after trailing the entire first half and got the 68-59 win. The Badgers would end up losing in the final game to Ohio State, as well as in their first-round NCAA Tournament game to Ole Miss.
2018-19, Michigan starting 17-0
Michigan appears on Wisconsin's schedule twice this season—Saturday, Jan. 19 at 11 a.m. CST at the Kohl Center, then again in Ann Arbor on Feb. 9. With head coach Greg Gard calling the shots, the Badgers are 2-3 against the Wolverines. A win on Saturday would be Wisconsin's seventh top-10 win and fourth over a top-5 team in four seasons under Gard. The Badgers are 13-3 all-time over Michigan at the Kohl Center.