Buffalo redshirt junior quarterback Tyree Jackson will be exploring graduate transfer options. Wisconsin Football should try and get involved.
There's no sugarcoating it: Wisconsin's quarterback play was abysmal this season, and while Paul Chryst and his head-scratching playcalling have a great deal to do with that, the fact remains that neither Alex Hornibrook nor Jack Coan has inspired much confidence that things will turn around next season.
The Badgers have kicked the tires on transfer quarterbacks before. Could they do so again now?
On Wednesday, Allen Trieu of 247Sports broke the news that Buffalo redshirt junior quarterback Tyree Jackson has entered the NCAA Transfer Portal, signifying that the 2018 Offensive Player of the Year in the MAC intends to explore his options as a graduate transfer.
Jackson's decision does not necessarily mean that a transfer will happen. He may ultimately decide to return to Buffalo, or perhaps even enter the NFL draft in the spring. In his most recent Big Board, draft expert Matt Miller of Bleacher Report lists Jackson as his No. 6 quarterback and the Biggest Sleeper at the position in this class.
Given Jackson's success at Buffalo, particularly throughout his first season as a full-time starter this year, and the current state of Wisconsin's quarterback play, the Badgers should absolutely poke around and see if there is mutual interest in a transfer to Madison.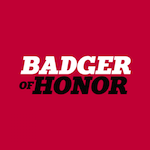 Want your voice heard? Join the Badger Of Honor team!
At 6'7, 245 pounds and with a cannon for an arm to go along with an ability to make plays with his legs, it's easy to see why some NFL scouts are high on Jackson. For his career, he has thrown for 6,999 passing yards and 49 touchdowns and has rushed for 757 yards and an additional 16 scores. The catch here is that Jackson has struggled quite a bit with his accuracy, as he has thrown 12 interceptions this season and 24 total for his three-year career, over which his completion percentage is just 55.8%.
While those accuracy issues are concerning, given what Jackson has shown as a college quarterback, I think most Badgers fans would still consider him a significant upgrade Hornibrook and Coan at this point with his ability to stretch the field and pick up yards on the ground. In addition, as mentioned, this was the first season in which he was the full-time starter at quarterback. Jackson is still a fairly raw player, and should he stay in college for one last season, there's a good chance he will be even better than he was this year.
Listen, I still do like Coan: I believe he's got the talent to be an upper-level Big Ten starter and that the coaching staff has not done him any favors or put the young signal caller in the best position to succeed throughout the first meaningful action of his career this season. That being said, the fact remains that Coan still has not provided the evidence needed for us to feel confident that he is the right man for the job next season and beyond.
After the debacle that was Wisconsin's 2018 season, in order to get back on track next year, the Badgers must have more production from under center. If that means bringing in Jackson to push Hornibrook, Coan, and company and compete for the starting gig, then so be it.
In my opinion, getting one solid year from Jackson could serve as an excellent bridge to the Graham Mertz era, allowing the 4-star recruit to redshirt and gain experience next season before taking over the reins in 2020. Depending on what happens moving forward with Hornibrook and his health, the presence of Jackson could also potentially give Coan yet another shot to get a redshirt season.
Should Wisconsin pursue Jackson, you have to feel that, along with the obvious need at his position, the Lance Leipold connection could pay dividends for the Badgers.
The Buffalo head coach and former six-time Division III National Coach of the Year at UW-Whitewater is a Wisconsin native who also happened to have a two-year stint as a graduate assistant for the Badgers from 1991-93. Clearly, the ties to the Badger State are there.
Stay tuned here, folks.
All stats courtesy of Sports-Reference.com