Class of 2020 running back Reggie Love has cut the list of schools he is considering to seven, and Wisconsin Football has made the list.
Wisconsin Football's 2020 recruiting class if off to a stellar start. The group consists of four excellent offensive line prospects-Trey Wedig (Wales, WI), Jack Nelson (Stoughton, WI), Ben Barten (Stratford, WI) and Dylan Barrett (St. Charles, IL)-and currently ranks as the No. 3 class in the Big Ten and No. 13 nationally.
The Badgers will probably look to add a few more players in the trenches, but their primary focus at the moment should be on adding some skill position talent to the group. One player that Wisconsin is sitting in great position for at the moment is 4-star Trinity Catholic (St. Louis, MO) running back Reggie Love.
Wisconsin offered Love last May and has made an impression, as Love included the Badgers on his Top 7 list of schools that he tweeted out on Monday.
Also making the cut were Notre Dame, TCU, Nebraska, Illinois, Purdue, and Kentucky. Love has other offers from Bowling Green, Indiana, Iowa State, Kansas, Kansas State, Louisville, and Syracuse.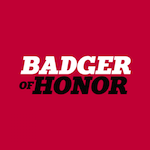 Want your voice heard? Join the Badger Of Honor team!
Wisconsin looks to have a solid chance at landing Love at this stage in his recruitment.
As their place in his Top 7 suggests, the 4-star ball carrier is clearly very interested in the Badgers. Love already made a trip to Madison to visit the campus and meet with the coaching staff back in the summer and is slated to return next weekend for the first of Wisconsin's Junior Days.  Their pitch to Love is obvious: come to Wisconsin for the chance to run behind monsters like Logan Brown, Joe Tippmann, Wedig, and Nelson and become the next great Badger running back in the tradition of guys like Montee Ball, James White, Melvin Gordon, Corey Clement, and Jonathan Taylor.
That's a pretty strong selling point, no?
However, this will by no means be an easy pull for the Badgers. The other programs in Love's Top 7 (yes, even Illinois to an extent) are recruiting well as of late and will pose formidable threats to Wisconsin. Notre Dame could be the most dangerous of that group. In addition, it's far from a guarantee that new programs won't come calling down the line. Love even made sure to note in his announcement that the list is susceptible to change and his recruitment remains open.