MADISON, Wis. — They say you're only as good as your record. No. 16 Wisconsin (3-1, 1-0) doesn't feel that adage does Nebraska (0-4, 0-2) justice.
Despite facing a winless squad heading into Saturday's matchup under the lights at Camp Randall Stadium, the Badgers, on tape, see a better Husker squad than their record indicates.
"You plan on each week, getting that team's best shot," head coach Paul Chryst said Monday. "You see what they're capable of being and that's a really good football team. You watch the film and you can see it.
"Whatever's happened before doesn't matter."
Get breaking news/updates sent straight to your inbox! Sign up for the FREE Wisconsin newsletter.
Wisconsin has won five-straight over Nebraska dating back to the 2012 Big Ten Championship Game. Since the Cornhuskers joined the Big Ten in 2011, the Badgers own a 6-1 mark in the series.
Nebraska was competitive in their season opener, falling 33-28 to Colorado. Since then, it's been all downhill for first-year head coach Scott Frost.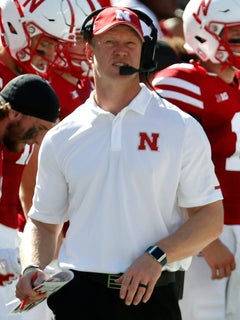 The Huskers dropped a 24-19 decision to FCS foe Troy. Nebraska has dropped their first two Big Ten conference games to Michigan and Purdue by a combined 60 points.
Despite being a 23-point favorite at home, UW isn't taking the bait.
"That's never going to end well if that's how you approach a football game," said senior left guard Michaeal Deiter. "It's a rivalry game. You play for a trophy. We know what we're going to get from them and it's going to be their best.
"We have to be at our best or it won't go our way."
Harrell Moves Into Starting Lineup
Redshirt freshman cornerback Deron Harrell has been elevated to a co-starter, along with sophomore Caesar Williams. Harrell, who started in Wisconsin's last outing against Iowa, has shown consistent improvement since the beginning of the season, according to teammates and coaches.
"Deron's talented and he's gaining more and more confidence with the position," said Chryst. "He's going to give himself an opportunity to get more reps and more playing time."
Badgers Prepare For Martinez
Nebraska quarterback Adrian Martinez has been a bright spot for Nebraska.
The true freshman signal caller is coming off a 323-yard and two-touchdown passing performance against Purdue. Martinez also added 91 yards rushing in the loss.
Martinez, who is the third true freshman quarterback to start a season opener in program history, has accounted for 725 total yards and five touchdowns in three games.
"He's very talented," Chryst said. "It looks like he's got good poise. He makes you defend the whole field, really the whole play. When things break down, he can be very dangerous and effective."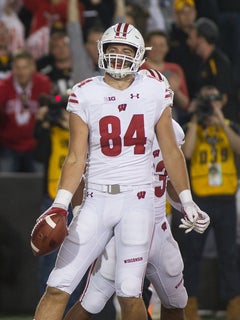 Ferguson Taking Strides
Redshirt freshman tight end Jake Ferguson just continues to get better and better in his first season of action.
Ferguson scored his firs touchdown against Iowa two Saturdays ago, along with four receptions for 58 yards. The Madison native is now second on the team in receiving with 12 catches for 166 yards.
"I think that he has done a nice job," said Chryst. "I've liked the progress that Jake has made each week, understanding the level of preparation and the approach to it has been something that's good to see out of Jake.
"He has given us some very significant moments and plays. And yet, you know he can continue to get a lot better."