All week, Joe Rudolph plans on "being the biggest jerk he can" to Jack Coan.
Trying to simulate the environment the sophomore quarterback may face at Penn State (6-3, 3-3), Wisconsin's offensive coordinator wants Coan to be as prepared as possible for the 107 thousand raucous fans dressed in blue and white at Beaver Stadium on Saturday.
"We scream and make it chaotic," Rudolph told reporters Tuesday. "Fans are yelling at you as you're walking in, it's loud. I think you just try and do as much of that in practice to make him feel it.
"There's going to be some uncomfortable situations."
With starting quarterback Alex Hornibrook in concussion protocol for the second time in three weeks, Wisconsin (6-3, 4-2) may turn to Coan, who would be making just his second career start.
As Rudolph said, nothing UW can do to simulate the hostile environment in Happy Valley will be ideal.
Rudolph and head coach Paul Chryst have praised Coan's preparation throughout the season, even when he knew he wasn't going to play. Part of that rehearsal included mental reps as a backup at some of Wisconsin's bigger road games over the last two seasons
"I've tried to just mentally prepare. Going into places like Nebraska and Iowa, even when I wasn't playing, just trying to put myself in Alex's situations," said Coan.
Coan's first career start at Northwestern had its ups and downs.
The Badgers fell 31-17 and now essentially trail the Wildcats by two games in the Big Ten West Division standings. Coan was a respectable 20-of-31 passing for 156 yards and a touchdown, but put together just one drive longer than seven plays and only led the offense into the end zone off NU turnovers on their side of the field.
Filling in for Hornibrook in the second half of last Saturday's 31-17 win over Rutgers, Coan looked sharp, completing 5-of-7 passes for 64 yards and an 11-yard touchdown to sophomore wide receiver Danny Davis in the fourth quarter.
"It can be something he can grow tremendously from or it can be something that can stagnant you," Rudolph said of Coan's first start. "I thought he used it to help him grow.
"When he got the opportunity to go in this past week, I thought he showed some growth."
Coan was also 2-of-2 passing on third downs, a 12-yard strike to Davis and a 13-yard pickup to freshman tight end Jake Ferguson.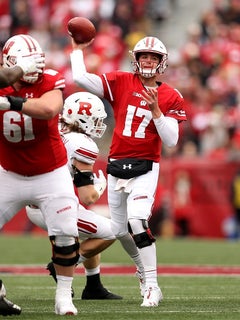 "It was good to get some completions and some third down conversions," Coan said. "I feel like I was definitely a little more comfortable, just having the confidence of playing a game before was probably the biggest thing."
With Coan under center, the Badgers scored on three of four second half drives against Rutgers — granted Chryst dialed up 13 consecutive run plays to begin the third quarter.
Still, Coan's teammates liked what they saw from the Sayville, N.Y. native.
"A lot of young quarterbacks might rush throws, don't trust the guys blocking," Taylor explained. "He sits in the pocket, delivers throws, reads his keys, and he doesn't panic."
On the season, Coan is completing 69.8 percent of his passes and hasn't thrown an interception in 48 career pass attempts.
Coan's first road test at Northwestern in October was in front of an announced crowd of 47,330, roughly half of which were UW fans. Saturday's audience at PSU should more than double that total. 
"At the end of the day, it's something he has to deal with," said senior left guard Michael Deiter. "When you're young, you haven't played a lot, it's intimidating.
"We'll talk to him. It won't be bigger than it really is. It's still just football."