Wisconsin Basketball squares off with the Purdue Boilermakers in what should be a fun matchup at the Kohl Center on Friday night. What are the keys to the game, and who wins?
It was a magical night for the Wisconsin basketball squad the last time Purdue came to town.
Last February, the Badgers hosted the Boilermakers at the Kohl Center in a matchup that most expected to be a blowout. At the time, Purdue was the No. 6 team in the land and fielded a lineup far more talented than Wisconsin's that included a quartet of stars in Vincent Edwards, Isaac Haas, Dakota Mathias, and Carsen Edwards.
Unfortunately for the Boilermakers, they came to Madison at the most inopportune time they could have last season.
That's because Wisconsin happened to be celebrating Frank Kaminsky Night on that evening. Before the game, the 2015 National Player of the Year and several of his teammates from those glorious Final Four runs  were in attendance to witness his legendary No. 44 jersey get raised up into the rafters.
As you would expect, emotions were running high in the building.
With Kaminsky and company looking on, the Badgers played their hearts out and came away with a 57-53 upset victory thanks to some clutch free throws from Brevin Pritzl in the game's final seconds. A good old-fashioned court storming ensued, with fans, Kaminsky, and the current Wisconsin players all celebrating together on the Kohl Center floor.
That win is considered by many Badgers fans to be the highest point of what was an otherwise miserable 2017-18 season.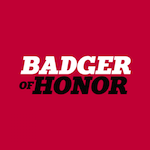 Want your voice heard? Join the Badger Of Honor team!
Wisconsin is a significantly better team this year, while Purdue has taken a step back thanks in large part to the graduation of a handful of key players. However, make no mistake, the Boilermakers are still a dangerous team with NCAA Tournament potential and boast one of the nation's most electric scorers in Carsen Edwards.
Coming off of a nice win in State College over Penn State, can Wisconsin keep the momentum going against Matt Painter's squad?
Projected starters
WISCONSIN (11-4)
G – D'Mitrik Trice – SO (14.3 ppg)
G – Brad Davison- SO (10.3 ppg)
F – Khalil Iverson – SR (4.7 ppg)
F – Nathan Reuvers – SO (7.7 ppg)
C – Ethan Happ – SR (19.3 ppg)
PURDUE (9-6)
G – Nojel Eastern – SO (5.8 ppg)
G – Carsen Edwards – JR (24.5 ppg)
G – Ryan Cline – SR (12.5 ppg)
F – Evan Boudreaux – JR (7.5 ppg)
F – Grady Eifert – SR (4.5 ppg)
Keys to the game and prediction
The bad news for Wisconsin is that this could be another game where Ethan Happ has a tough go of it in the paint.
In two games against the Boilermakers last season, Happ shot just 16-36 from the field as he battled Purdue's Twin Towers of Isaac Haas (7'2) and Matt Haarms (7'3). Haas has exhausted his eligibility, but Haarms is back.  He has not been in Painter's starting lineup as of late and is only averaging 17.9 minutes per game this season, but I would expect to see a lot of him Friday night as Purdue looks to stifle Happ.
Haarms is long and plays with a ton of energy on both sides of the court, but he shines the brightest on defense. The sophomore big man from the Netherlands currently ranks No. 7 in the Big Ten in both total blocks and blocks per game, and he finished last season at No. 2 in both categories. The Badgers are all too familiar with Haarms' shot-blocking prowess: in Wisconsin's 78-50 loss to Purdue last January he swatted five shot attempts.
As we have seen many times before, as Happ goes, so too does this team. If he struggles to produce, the Badgers better hope that they get hot from the outside.
The good news is that, aside from Haarms, the Boilermakers are nothing special defensively. This is particularly true of their three-point defense, as Purdue both gives up a ton of attempts from beyond the arc (No. 270 nationally in that category) and watches a lot of those shots go through the net (No. 298 in opponent three-point percentage). The Boilermakers may succeed at shutting down Happ to an extent, but if he's finding Brad Davison, D'Mitrik Trice, and Nate Reuvers out on the perimeter for quality looks (as he usually does) and those guys are hitting, it won't matter.
That being said, assuming Wisconsin is on offensively, Purdue has the dudes to keep up with them on the scoreboard.
It's safe to say that Carsen Edwards is probably going to get his. The junior guard is the Big Ten's leading scorer and can absolutely fill it up, with a 40-point game against a solid Texas team serving as the best example this season. Edwards is coming off his worst game of the year against Michigan State, having gone 3-16 from the field with just 11 points, but that performance should be considered an anomaly. I would expect him to score at least 20 against the Badgers.
The x-factor for Purdue is Ryan Cline, who is having a big senior season and has established himself as a solid No. 2 option to Edwards. If he and Edwards are both on, Purdue is difficult to beat. However, Cline has been off over the last month or so, shooting 31.5% over his last seven games.
In the end, I like Wisconsin's chances at home. Edwards will keep the Boilermakers close, but for them to win, I think Cline needs to have a big game, and I don't have the confidence that he will deliver based on how he's trending. In addition, while the matchup between Happ and Haarms down low is worrisome, I'm expecting the Badgers to carry over their offensive success from the Penn State win against this mediocre Purdue defense.
Badgers get the W, 72-66.
All stats courtesy of Sports-Reference.com